Sinking Fork School Counselor's Office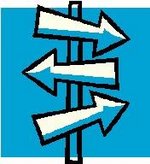 Sign with arrows pointing in different directions
My name is Natalie Westerfield and I am the School Counselor at Sinking Fork Elementary. This is my twelfth year as a school counselor, and my seventh year at Sinking Fork. It's great to be a Panther! Prior to being a counselor, I taught general music at the elementary level for eight years. I received my Bachelor of Music Education, Master of Arts in Education in School Counseling, and Education Specialist degree in School Counseling from Murray State University.

I am here to assist students in the areas of personal-social growth, educational planning, and career development/awareness. I serve as the Building Assessment Coordinator, work closely with Special Education Programs, as well as the Response to Intervention program in our school. In addition to counseling students, I consult with parents, teachers, administration, and district personnel in order to help ensure our students have Panther PRIDE…
P-Practice a positive attitude.
R-Respect ourselves, others, and our school.
I-Improve ourselves every day.
D-Demonstrate cooperation.
E-Exhibit Responsibility
Please contact me if you have any questions or concerns about your student that I can assist you with.
===========================================================
PATHS Program

(Promoting Alternative THinking Strategies)
The PATHS program was implemented four years ago in our elementary schools.
PATHS lessons will be used regularly throughout the year and will cover many topics, such as friendship, feelings, thinking skills, and problem solving. PATHS is a program that can help children develop their thinking skills, learn to act responsibly, practice acceptable behavior, understand and express their emotions, and do better in school. Some of the goals of the PATHS curriculum are as follows:
*To help children learn how to solve problems for themselves

*To help children better understand themselves and others
*To help children be more aware of feelings
*To improve children's self-esteem (the way they see themselves)
*To help classmates learn together as a group
===========================================================
Character Words:
Each month our school will focus on a different character theme to encourage the development of the following in our students:
August: Responsibility
September: Good Judgment
October: Perseverance
November: Compassion
December: Kindness
January: Courage
February: Respect
March: Integrity
April: Self-Discipline
If you have any questions or concerns about content on this page, please call the school at 270-887-7330 for more information.